Laxmichandbhai with the immense help of Vice President Vijenbhai carried out the project not only to a very high standard of construction such as granite cladding, underfloor heating, marble flooring but also added innovations such as ghabharo, bhamandal, marble carved scriptures, kalash, shikhar, shastra gokhla, ashtamangal carved doors and other decorations and fittings. The foundation laying ceremony of mandir shilanyas vidhi was performed by Bhagwanjibhai and his family, and over 400 mumukshus laid bricks in the foundation. The mammoth project was completed within a year and on 01.04.2001, the opening ceremony of the temple was performed by Naynaben and Kiranbhai K Shah. In addition, the five main shastras of Shree Kund Kund Acharya Dev were installed.

2001 – 2003: Parsvanath Bhagwan's Pradhramani
A mandir is a swadhyay hall until a 'pratishtith bhagwan' is installed and towards that end, a search was started for a suitable marble for the carving of a large idol of Shree Mahavirswami. Our punya was strong that a very pure white Italian marble was found on 8.10.01 and work started immediately in Jaipur for the carving of a pratima of 61" height, under the supervision of Shree Jatishbhai and was completed by June 2002. Pratishtith Bhagwan Shree Parsvanath, whose pratishta was done in Ranpur, India in the presence of Gurudevshree, was brought to London by Shree Hemantbhai Gandhi and was installed in the mandir on 24.08.03 in the presence of a gathering of members. Since then, abhishek and puja is being performed daily at the mandir.

2005 – 2006: Unveiling ceremony of Shree Mahavir Swami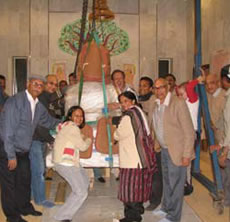 Thereafter, due to the punya pratap of Gurudevshree Kanji Swami, the unveiling ceremony of Shree Mahavirswami's 61" pratima was done on 19.06.05 in London. It was attended by over 300 members and other guests, and it was now destined that the panchkalyanak pratishta mahotsava of Bhagwan Mahavir will happen!! The momentum picked up to a high degree to hold a unique 'bhavya' panchkalyanak mahotsava in August 2006 and to that aim the Pratishta Committee devoted all their energy and immense hard work, in preparation of a magnificent impressive event, which would echo the prabhavna of satdharma, propagated by Gurudevshree, in every corner of the world.




SHREE DIGAMBER JAIN ASSOCIATION